Press-clips
about Jazzland
---
---

Downbeat - Magazin
Jazz, Blues & Beyond
Great Jazz Venue 2015
von Frank H. Alkyer
January 6, 2015
We know it's not easy to present live music. But we're surely glad that you do.
For that reason, on behalf of everyone from DownBeat magazine, I would like to congratulate you for being named one of the world's top jazz venues for 2015.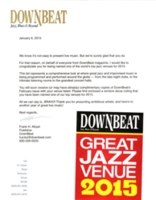 This list represents a comprehensive look at where great jazz and improvised music is being programmed and performed around the globe - from the late-night clubs, to the intimate listening rooms to the grandest concert halls.
You will soon receive (or may have already) complimentary copies of DownBeat's February issue with your venue listed. Please find enclosed a window decai noting that you have been named one of our top venues for 2015.
All we can say is, BRAVO! Thank you for presenting ambitious artists, and here's to another year of great live music!
Best regards,
Frank H. Alkyer
Publisher DownBeat
102 N. Haven Road
Elmhurst, Illinois 60126
downbeat.com
---

The Vienna Review - All That Jazz: Highlights for Februrary
Chico Freeman: Playing It All!
by Jean Pascal Vachon
The 1970s weren't easy for American jazzmen. After the deflagration of free jazz in the 1960s, jazz somehow lost its appeal. Several American jazzmen found themselves with lesser opportunities to play, a much-reduced audience and no recording contract as some of the most important labels had closed. Some quit performing music, others accepted less musically-rewarding jobs - read, 'more commercial' - and some left for countries where jazz still enjoyed relative success. Old masters started to slowly fade away. Even the ever-transforming Miles Davis was virtually retired by 1975. For young emerging musicians, this just wasn't the right time . . .
Then came the 1980s and jazz enjoyed a revival in the public eyesand ears, somehow re-awakened to its magic, fueled by a few marketing gurus who branded it 'cool' and 'sophisticated'. Record labels started signing "young lions", talented and good-looking, but far from ready, musically-speaking. As for the musicians who had emerged in the 1970s, well, they found themselves too old to be marketable (despite all their great chops and committed wood-shedding) and not old enough to be treated as masters! Even today, this generation of musicians is scandalously overlooked. While we know about Brad Mehldau, Joshua Redman and Roy Hargrove (and deservedly so), who is familiar with the music of Mulgrew Miller, Joanne Brackeen, Bobby Watson, Valeri Ponomarev, Woody Shaw, Arthur Blythe, Anthony Davis? A few from that "sacrificed" generation managed to get through to, if not stardom, at least relative popularity. Chico Freeman is one of these.
Son of the legendary Chicagoan and perennial maverick, Von Freeman (still going strong at 86!), Chico Freeman, interestingly enough, started on the trumpet before realizing that his true calling was the tenor saxophone. He has since added the bass clarinet, the soprano saxophone, the flute and keyboard to his palette. Preoccupied with the African origins of jazz, Freeman likes to mix various influences in his music: rhythm & blues, pop, world (and particularly South American):
"My goal is to explore new worlds, and I don't want to be limited by categories. I don't want to be told that I can't go into other categories. The only limitations I place on myself are the limitations I place on my own imagination. And within that realm, there are none."
His vast knowledge of musical cultures plus solid studies in music theory have made him particularly in demand with other musicians, from avant-gardists to more traditional, from Latin greats to . . . the pop group Eurythmics! Trying to follow him is a big assignment, but despite his many projects, he's always managed to remain loyal to his origins: influenced among others by his father, Chico Freeman developed a sound which owes a debt to the Chicago tradition: a robust, warm, big and almost aggressive sound (with a little touch of Coltrane) that he applies to his own style made of long legato phrases, expressionistic harmonics effects and volcano-like eruptions that can be best appreciated within a small group. And the highest compliment: Chico Freeman is also a supreme balladeer!
For his appearance in Vienna's Jazzland - Europe's oldest continuing jazz club - on a European tour that includes Linz, Bruck an der Leitha and Lustenau, Chico Freeman will play, as he usually does when touring in Europe, with the Fritz Pauer Trio. Viennese jazz lovers don't need to be introduced to this legend. It's probably easier to mention those who haven't played with him since the list of his collaborations seems endless. But let's just mention a few who did: Sheila Jordan, Eddie "Lockjaw" Davis, Benny Golson, Benny Carter, Herb Ellis, Dave Liebman, Harry "Sweets" Edison, Warren Vaché, Benny Bailey, Kai Winding, Jim Galloway, Attila Zoller, James Moody . . . without forgetting his unique collaboration as member of the European combo of the late "wahl-Wiener" Art Farmer.
Let's say that when one wants to study the history of jazz in Vienna since 1970, Fritz Pauer is likely to appear more than a couple of time. Recently awarded with the Grand Decoration of Honour for Services to the Republic of Austria, Pauer belongs to this precious category called the musicians' musician". In other words, he is a musician able to adapt to the guest's style and make him sound good while managing to keep his own style. One thinks of Hank Jones, Tommy Flanagan, Jimmy Rowles or Kenny Barron . . .
Influenced by Thelonious Monk and Bud Powell, Pauer also mentions Friedrich Gulda and mostly Joe Zawinul as mentors:
"I was first influenced by Joe Zawinul whom I heard on radio," he remembers, "and was particularly fascinated by his sound, his creativity and his whole way of playing."
And had ever thought of moving to the other side of the ocean:
"I've often toured across Europe. Because I've gotten so many interesting things to do, I've never felt the urge to move to New York." Also present for these Vienna concerts, bassist Johannes Strasser and drummer Joris Dudli, who have developed over the years with Pauer a rare combination of complicity and flexibility.
Surely one the "must-see" jazz events of February . . .
Chico Freeman and the Fritz Pauer Trio
February 18 - 21, 21:00
Jazzland Vienna
© Jean Pascal Vachon - The Vienna Review - February 2009 Page 19
Musicologist Jean-Pascal Vachon teaches at Webster University Vienna and gives lectures on the history of music at various venues around the city. In addition, he also contributes texts and works as a translator for the Swedish classical label, BIS.
---

The WholeNote Magazine - November 2007 Issue
by Jim Galloway
This is the time of year when I usually send my article in from Europe and this being no exception, I'm writing from Vienna. I thought that a 'good news' story about a jazz club would make a refreshing change after all the gloom and doom surrounding the club scene in Toronto.
The club is called Jazzland and it is in the heart of old Vienna and as is so often the case the story of the club is really a story of love and dedication on the part of Axel Melhardt and his wife, Tilly. Jazzland opened its doors in March of 1972 which makes it one of the longest running clubs with the same ownership and with jazz six nights a week anywhere in the world.
Axel's father Edgar was a successful actor with the Vienna Volkstheater and his mother, Ilse Glarys was a well-known singer-actress who, at age 34 was encouraged by a vocal teacher to study opera because she was a natural coloratura soprano and in 1938 was given a five year contract with the Vienna State Opera. But at dawn on Saturday, March 12, 1938 Hitler invaded Austria. Ilse never got to sing a note with the Opera Company because 'she looked too Jewish.' It was the end of her singing career, although they did honour her contract.
Axel was born in 1943 and grew up in an environment of classical music. His mother took piano lessons from a woman who had been a pupil of Gustav Mahler and who also earned some extra money by baby-sitting the young Axel. He also took piano lessons and was steeped in the music of Mozart with absolutely no awareness of jazz.
In fact, the connection to classical music ran deep. Axel's great, great uncle on his father's side of the family was Antonin Dvorak!
The way in which jazz entered the young Axel's life is one of those funny twists of fate. He had a date to go out with a girl and they arranged to meet in front of a movie house near where she lived - not to go to the movies, but the cinema was simply a convenient meeting place. He waited and waited but the girl never arrived. Too embarrassed to go home and admit he had been stood up, he decided to go into the cinema, not even bothering to look at what was showing. The film was The Benny Goodman Story and Axel was transfixed. He sat through the movie three times and went back the next day. The following week he sold all his rock 'n roll records and began buying jazz. He never saw the girl again.
Jazz was not exactly a household word in those days; in fact it was relatively unknown as was another of his passions - science fiction. But Axel is clearly a man who likes a challenge and he took up writing science fiction, is a published author and for a time created a literary magazine showcasing emerging writers which gained a sizeable following in the German-speaking world. He was also gaining attention in Viennese circles as a jazz collector and historian. By the mid 60s he was also handling the affairs of a local group, The Red Hot Pods and the eventual transition to running a jazz club seemed almost inevitable.
It became a reality in 1972 in a 500 year old cellar and over the years has remained true to Axel's concept of featuring leading Austrian musicians with a regular sprinkling of guest artists, mostly American. Over the 35 years the list of players is a Who's Who of jazz that swings. Just a few of the names will give some idea - Howard Alden, Monty Alexander, Harry Allen, John Allred, Chet Baker, Dan Barrett, Joanne Brackeen, Bob Brookmeyer, Ray Brown, Ray Bryant, Benny Carter, Doc Cheatham, Cyrus Chestnut, Arnett Cobb, Al Cohn, Kenny Davern, "Wild Bill" Davis, "Lockjaw" Davis, "Wild Bill" Davison, "Sweets" Edison, Roy Eldridge, Kurt Elling, Herb Ellis, Margie Evans, Art Farmer, Benny Golson, Johnny Griffin, Scott Hamilton, Gene Harris, Jon Hendricks, Earl Hines, Art Hodes, Javon Jackson, Hank Jones, Oliver Jones, Barney Kessel, Lee Konitz, Diana Krall, Dave Liebman, Joe Lovano, Junior Mance, Jay McShann, Brad Meldau, James Moody, Nicholas Payton, Ken Peplowski, Bucky Pizzarelli, Alvin Queen, Zoot Sims, Ralph Sutton, Buddy Tate, Clark Terry, Lew Tabackin, Stanley Turrentine, Warren Vache, Allan Vache, Ben Webster, Teddy Wilson, Kai Winding and Phil Woods and on and on.
But don't imagine that Axel has achieved all this on his own. His wife, Tilly, has been a tower of strength and a never-ending source of support and encouragement. Last month they celebrated 34 years of marriage and Axel freely admits that without her things could never have gone so well. They have a 23 year old son, Julius, who this year has taken a more active part in the club, and a staff that would be the envy of any club owner.
Another significant thing I have observed is the high percentage of young faces in the audience. On any given night about half the audience is on the sunny side of 30, many of them students and many of them tourists, but receptive to jazz and that, believe me, is a very refreshing sight.
Axel has a fund of anecdotes, one of them concerning The Preservation Hall Jazz Band and Willi Boskowsky, the world's most famous interpreter of Johann Strauss. Boskowsky, concertmaster with the Vienna Philharmonic, for many years conducted the orchestra for the annual New Year's concert and did so in the old style of the master himself, with his violin held in one hand, conducting with the other and playing the appropriate passages. He died in 1991, but his reputation lives on and his influence is still profound.
In the late 60s the Preservation Hall Band was booked to give a concert in Vienna. The 2000 seat auditorium was sold out and so a second afternoon concert was scheduled for the same day in a smaller venue. The flight was delayed - it happened even back then-and the band had to go straight to the hall wearing the clothes they had travelled in.
Trumpeter Dee Dee Pierce was wearing a somewhat tattered t-shirt with a tear under the right armpit and the rest of the musicians were distinctly casual in appearance. Backstage, after the concert, Willi Boskowsky, in full formal wear came into the dressing room, walked over to Dee Dee, who had no idea who this intruder was, hugged him and proclaimed, "I have to dress like an ape to draw my audience, but you fellows make wonderful music without any of the bullshit!"
He also has an interesting story regarding Friedrich Gulda, most famous for his interpretations of Beethoven, but also interested in contemporary jazz. In the early 70s Gulda expressed a desire to play at Jazzland. This was at a time in his career when he was commanding very healthy concert fees and, if the engagement was in Vienna, a suite at the Imperial Hotel available to him the week before and after the engagement. At Jazzland he played for two nights at a tiny fraction of his normal fee and stayed in a small flat above the club!
On the first night he played until 2am, but played very little piano, by far the bulk of the playing being done by the other musicians, but ending the evening on a sonorous low B on the Bosendorfer, specially installed for the occasion. Axel was a little put out at how little Gulda had played throughout the entire evening and suggested there was no real need to tune the piano just for the low B having been sounded; Gulda, perhaps feeling some guilt, did a complete turnaround on the second night and gave a dazzling display of different piano styles ranging from Errol Garner through Art Tatum to Oscar Peterson!
According to Axel however, he was unhappy because he did not have an individual sound of his own when playing jazz and turned to avant-garde where he was more able to be an original voice.
Incidentally, a footnote to the story is that the club now has its own Bosendorfer!
Jazzland - the little club with a big heart. Long may it continue.
Happy live listening!
© Jim Galloway
---

The Vienna Review - On the Town
Vienna's Prime Lokal Celebrates its 35th Anniversary,
The Oldest Continuing Jazz Club in Europe
Jazzland:
Always 'In The Mood'
by Elodie Lamblin
It's Monday evening and I am on my way to Jazzland. The club is situated right next to Schwedenplatz in the 1st district of the capital, not far from the so-called "Bermuda Triangle", where a concentration of bars have long been popular with both locals and tourists.
The hidden entrance, under St. Ruprecht's Church, already sets the tone of this off beat world of non-conformists.
Jazz musicians have always been rebels; locations were to be discovered, and the music was played literally underground, in dark and smoky cellars.
Inside, the main room of exposed bricks is long, lined with padded benches and packed with tables covering every centimeter of space. The walls are covered with rows of crisp black and white photographs, the faces and instruments of the Jazzland stage.
As I entered, there was not a single table free, so I pick my way, zigzagging between tables and legs of people already making themselves comfortable, finally ending up in a second room off to the left, by the bar. Here it was nearly empty.
I had the choice of sitting at the bar itself as I usually prefer, but it would have meant missing the view of the stage.
I could have also chosen a wooden "stammtisch" for ten people. I finally picked a tiny connecting alley, between both rooms, with a small bench. I had found my spot, ideally located at exact distance from both the bar and the stage . . .
As my eyes wandered around the room, the sense of excitement grew. The place has an aura of the souls and evenings of music that have taken place over the years. Each inch of Jazzland is filled with the marks, stains, of its history.
The comfort and ambience with the décor blending Austrian Heuriger furniture reinforce the warmth brought by Jazzland. It simply felt good to be sitting there, enjoying the dazzling view of five saxophones being played at once by musicians who moved their bodies like snakes.
Jazzland is the oldest continuing jazz club in Europe and it is by far the pioneer of the jazz locals on the Viennese scene. Axel Melhardt, founder and director of the club, himself something of jazz legend, wanted to put Vienna on the international circuit, and made Jazzland a place to present performers from all over the world, playing very different styles of jazz.
Hundreds of international bands and musicians from the United States and Europe as well as the top Austrian talents have played at Jazzland - this year celebrating its 35th anniversary - people like Big Joe Williams, Teddy Wilson and Benny Carter.
The 500 year-old cellar space, originally a little city-owned wine cellar called the Weinfassl ("The Li'l Wine Cask"), presents live jazz six nights a week, a remarkable feat of organization and management by Melhardt for what is essentially a small family business.
Moreover, Jazzland has the reputation of not only being a musical club but also the home of good Viennese cuisine, where people enjoy a choice of Austrian Suppentopf, Schinkenfleckerl or Wienerschnitzel and the popular house specialty, the bean goulash. The wine menu is short and local, but very satisfactory and happily inexpensive.
One of Melhardt's only regrets, as added on the Jazzland website, is that he feels jazz is earning a lot more respect elsewhere in Europe.
In Austria, it "seems forever tied to the old mindset, equating jazz with rock and pop, rather than granting it the respect it's long since earned as 'serious' music."
However, one of Jazzland's great strengths, one that makes all the difference is its ability to adapt to the ever-changing jazz music. It has continuously flourished in styles over the years and Jazzland, with the support of Vienna, has offered the possibility to make it being discovered every time again.
"Vienna has finally made it," Melhardt says. "No other city in the world offers as many seats in jazz clubs in relation to its population as the Austrian capital does."
On stage, the band 18th Street Saxophone Quintet had by now started jazzing for a few minutes, spurring the feet in the audience to already beat the tempo. Four men and a woman shared the notes coming out of their saxophones, catching the tails of each others' melodic tunes, separating and merging again in seeming perfect balance.
At Jazzland, the hours drift gently by, punctuated by a fusion of musical tunes. The next song came up soon after. As I allowed myself to close my eyes, the melody traveling to my ears brought me to the 20's, dancing in swirls with a gentleman in a double-breasted suit in a bright, art deco dance club in old New York.
The walls melt away in the spacious room, filled with laughter coming from intoxicated couples whirling on the dance floor.
But the jazz I was enjoying at that precise moment created a very different image in my mind than the older jazz I usually listen to bringing me back several decades to this cozy setting of underground cellar, small tables, smoky atmosphere and whiskey. This was better than ever- it suited my mood to perfection.
The next piece, originally from the group "Super Sex," had been arranged by the band for five saxophones- a very shallow-mellow ballad under the trees in Central Park, springtime.
The omnipresent concept of communing with jazz music and repetitive tunes became palpable with the next song, "Birdland." The air was filled with a tasteful sprinkling of contemporary beats, very dynamic in style and positive in mood.
The musicians spiced up the melody with little unex pected touches, making it more exotic, almost fruity!
At the final piece I sat back once again, eyes closed, to find myself sitting in a plane with a suitcase on my lap, to a great adaptation of the melody from "Mission Impossible." Jazz tells stories, and film often does its bidding.
Before leaving the club and entering back into reality, I met a young American man who was sitting by himself, Wesley Mattingly, from Kentucky, studying for a doctorate in philosophy in Germany and visiting Vienna for a few days.
Wesley might have been an oasis, out of place in his own time. Passionate about jazz since a very early age, he talked about "how important it was to still be able to get lost in free jazz."
We all become artists in a way when we learn to enjoy, discover, and attempt to understand the art of jazz- the thoughts and language of sounds in which we each find a voice our own way.
© Elodie Lamblin - The Vienna Review - April 2007 Page 17
---

JUST JAZZ - The Traditional Jazz-Magazine, UK
Down by the Danube Riverside with the Wild Bill Davison Legacy Band
Not without good reason is Vienna described as "the music capital of the world" on the Austrian capital's official website. The city's classical musical credentials are world famous as it was, at one time or another, home to Mozart, Schubert, Beethoven and Haydn.
But jazz? Well, you wouldn't immediately associate this elegant, sophisticated city with jazz, but the fact is that it is something of a mecca for visiting musicians, especially those from America. Currently there are, in fact, three flourishing venues. Two are relatively recent ventures, but the third, and the one to which Vienna owes its place on the jazz map, is almost as old as London's fabled Ronnie Scott's and it's survival for 34 years is entirely due to the determination of its owner, the legendary Axel Melhardt, of whom more later on.
Back in October, and in recognition of his 100th anniversary, Jazzland presented the Wild Bill Davison Legacy Band, an American-European outfit dedicated to playing that glorious, uncompromising, Condon-jazz which inspired some of Davidson's finest recordings. Sadly the band did not include Britain on its itinerary, so a trip to Vienna was the only way to catch them in action - and it was well worth the effort.
The main attraction was the American front-line, comprising three accomplished musicians all of whom had played with Wild Bill. On trumpet-cornet was Tom Saunders whose link with Bill was as leader of the band when the great man was only well enough to play short guest spots. Playing clarinet was Allan Vaché, brother of the rather more celebrated (in the UK, at least) cornet maestro, Warren Vaché, while the trombone man was Bill Allred, normally leader of his own Classic Jazz Band in Florida and whose fluent, muscular playing, much in the style of Cutty Cutshall, has also graced Condon tribute bands back in the States. Probably for economic reasons, the rhythm section consisted of European musicians, Mike Goetz (piano), Isla Eckinger (bass) and Bernard Flegar (drums) who delivered effortless propulsion in a manner which must have brought as much pleasure to the Americans as it did to the small British delegation in the audience. Think Fred Hunt, Lennie Hastings and Ronxxx and you'll know what I mean.
Many of the tunes they played were, as expected, those closely associated with Wild Bill - "Wolverine Blues", "Ain't Gonna Give Nobody None of My Jelly Roll", "Tin Roof Blues", "Can't Believe That You're In Love With Me", "Don't Get Around Much Anymore" and, a rather more obscure title called "Jubilee", written by Hoagy Carmichael. In Britain, where New Orleans rules, this kind of freewheeling jazz, played straight from the lip, is something of a rarity these days and I have a feeling that the Wild Bill Davison Tribute Band would go down in a storm if some enterprising promoter decided to bring them over, an opportunity which Tom, Alan and Bill would certainly welcome.
Their three-night appearance, in the small, smokey, cellar underneath St.Ruprecht's Church, a stone's throw from the Danube, was the latest in a prestigious list of more than 300 American musicians who have found their way to Jazzland over the last three decades. Outstanding among them was the former Count Basie tenor sax giant Eddie "Lockjaw" Davis who played there for 18 weeks over a period of 12 years. Others on the Jazzland roll of honour include, Max Kaminsky, Teddy Wilson, Clark Terry, Benny Carter, Bud Freeman, Ralph Sutton and onetime Vienna resident Art Farmer. English bands have been conspicuous by their absence. This, explains Axel, is largely due to the high cost of travel, but also due to Viennese preferences for American musicians whose names are familiar or for local bands with which they more readily associate. Nevertheless, the likes of Brian Carrick, Roy Williams, Danny Moss, Tony Coe and Claire Martin have visited and, says Axel, "If a British band is planning European dates and is playing nearby, we will find possibilities."
Writing his own science-fiction stories while also translating the works of leading American authors and then publishing a literary magazine were Axel's first great interests. But his hobby was jazz and he became a familiar figure on the city's music scene. Then in 1972 he took his first step in jazz promotion by organising a musical evening at a financially-strapped wine cellar. It was successful enough to encourage him to present music on a more regular basis and it wasn't long before the wine cellar took on its present Jazzland identity.
Supported for almost all the past 34 years by his wife Tilly, Axel's musical policy from the start has been well-defined - invite outstanding overseas stylists, notably American, and team them with the best local players, while simultaneously using the club as a training ground for deserving, emerging young talent. This particularly manifested itself in October when Scottish-born reeds man James Galloway, now a resident of Toronto, was featured for seven nights working with different bands at each show.
Axel's own music tastes are wide-ranging, "from Blues to hard-bop and everything in between, but we feature very little free- or avantgarde-jazz at the club". Look at the monthly programme and featured artists range through the likes of the Barrelhouse Jazzband, Big Joe's New Orleans Jazzband, Elly Wright's Gospel Night, Benny Golson, the Reggie Washington Trio featuring Ravi Coltrane, Bottleneck John, Worried Men Skiffle Group, Stanton Big Band, Blue Note Six and Grapellissimo. It's an eclectic mix, but when you are trying to keep a club open six nights a week, it's wise to offer varying types of jazz and cater for paying customers with diverse listening tastes.
But jazz promotion for Axel, like it is for so many committed souls, remains a risky business. "Jazzland," he admits, "has never been a financial success. Jazz is nowhere near a good business anymore. But I do what I like best in this world and I can make a modest living."
For the present, he remains a dedicated optimist. But his view of the future of jazz - or at least the kind of jazz that he loves - as a source of commercial entertainment is that it may struggle to survive. "As long as the radio stations ignore jazz, it will die out within the next decade or two. They play Mozart and Bruckner, but ignore Armstrong and Ellington. And it is nearly impossible for young people to find their way into our music when all they hear is Coltrane and even more 'free' sounds. But I will, as long as possible, fight this situation."
It's a tough prospect he faces, but if anybody can make it work, then that man must be Axel Melhardt. As Sophie Tuker might have sung, "Nowadays a better man would be hard to find."
Jazzland is located at Franz Josefs Kai 29, 1010 Vienna. Cost of admission is modest and decent food and drink is available. More information can be found by logging on http://www.jazzland.at.
Further information about the Wild Bill Legacy Band can be found by contacting Bill Allred at 653 Rosemere Circle, Orlando, Fl 32835. His website is http://billallred.com which allows access to tracks from their Arbors cd Call Of The Wild. After their Vienna gig the band was heading for Switzerland to record a new CD. This will be featured in the New Year on the Hot Jazz Channel on www.radiojazz.co.uk
© Brian Mulligan - Just Jazz Issue No. 105 January 2007
---

Wholenote Magazine, Toronto.
November 2002 by Jim Galloway
Tales Of The Vienna Moods
This month's article comes from Vienna where I am making my annual pilgrimage and soaking up the atmosphere of this lovely and historic city as well as spending time with some of the very special people in my life.
This is about one of those people - not about the month's musical happenings in Vienna, although there is plenty going on - and it is something of a love story. Not your usual boy meets girl - although that is a part of it - this is a story about the power of music to change a life.
Axel Melhardt was born in Vienna in 1943 and comes from a background that almost pre-supposes a life in the arts one way or another. His father, Edgar Melhardt, was a well-known actor throughout German-speaking Europe, his mother Ilse, an opera singer whose career was cut short by the 2nd World War, and he is a great grand-nephew of the composer Antonin Dvorak! An interesting background, to say the least.
There is a fascinating story about how Axel's father survived the war. Towards the end of the conflict the Nazis created the 'Volkssturm', a rag-tag army of non-soldiers, without training, without weapons, and certainly without any desire to fight, and sent them into the front line simply to extend the war. Axel's father, who was anything but pro-Nazi, was conscripted, but avoided it, at least temporarily, by injecting his leg with milk; this, apparently, had the effect of causing it to swell severely, rendering him unfit for service. It was a ruse, used by many, but was detected by the army who, showing no milk of human kindness on their part, sentenced Edgar to death by hanging; but the war ended before the sentence could be carried out! No puns about suspended sentences.
One evening after the war, the young Axel had a date to take a girl to the movies. She didn't show up, but rather than go home and admit that his girl stood him up, he went to the movie alone. It was The Benny Goodman Story and Axel sat through it three times and twice the next day. The following week he got rid of all his Rock 'n' Roll records and went out looking for jazz. After trying several stores we found the music shop run by Maryanne Libowitzky and hit pay dirt. Not only did he find Goodman's Carnegie Hall Concert, he discovered 'Ambassador Satch' by Louis Armstrong. Axel was hooked. The shop, by the way, is still there on Rotenturmstrasse and run by Bibi Libowitzky, Maryanne's son and bass player in The Red Hot Pods, a local traditional band! Regular visits to the shop, listening to jazz records and buying when he could afford them became the pattern and little did Frau Libowitsky realise that she had sown seeds that would eventually blossom as one of the world's best jazz clubs. Around this time he also discovered the Hot Club of Vienna, run by a musician called Johnny Parth. They held Friday night sessions where someone would select an artist, play recordings and discuss his or her career. On Saturdays they held jam sessions.
When Axel left school he worked for a time translating science-fiction stories and writing his own. He recalls that the bad ones were easier to sell than the good ones! He resumed studies - astronomy, geology and anthropology, after which he worked for two years with Simon Wiesenthal, still maintaining his passion for jazz.
In 1972 he was one of the founders of Jazzland, a club situated in the heart of old Vienna at Franz Josefs Kai; he took over ownership in 1983 and today it is one of the leading jazz venues in the world. The list of great musicians who have played there over the past 30 years is quite amazing, ranging from blues artists such as Sunnyland Slim and Blind John Davis to just about every name jazz player in the traditional/mainstream styles - Lockjaw Davis, Teddy Wilson, Wild Bill Davison, Art Hodes, Art Farmer, Clark Terry and on and on - contemporary musicians like Lee Konitz, Paul Motian and Bob Brookmeyer and younger players like Brad Meldau, Dianna Krall, (before she hit the bigtime) and Matt Wilson. I said that there was a 'boy meets girl' ingredient in this story. Seven months after the club opened Axel met Tillie - immediately lost interest in any other girl friends and last month they celebrated their 27th. anniversary. One of her regrets is that before she and Axel got together she missed Ben Webster at the club! They have a son, Julius, now a teenager and through their dedication to the music they have a family of friends, jazz musicians around the world who have been able to make their music echo in a 500 year old cellar in Vienna - Jazzland.
A recent edition of Downbeat lists 100 of the great jazz clubs throughout the world. Our own Montreal Bistro and Top O' The Senator are listed. So is Jazzland in Vienna.
Congratulations Axel and here's to the next 30 years.
© Jim Galloway
---

April 2002 - www.jazznow.com

Jazzland After Thirty Years
by Lawrence Brazier
Seven-thirty, Sunday evening, March. The streets are pretty empty, parking is still easy to find. The inner-city ring carries a steady flow of traffic, all swiveling headlights, the drivers locked in anonymity.
There is the usual guy grinning and yapping merrily on his cell phone outside the club. You open the door and there is a riot of sound, a severe blast in contrast to the quiet city outside. The club is overflowing with a choice selection of mostly Viennese Jazz musicians and selected fans. It is a private party. The food and the booze is free. Who could resist?
Jazzland has achieved 30 years of service to the city, every year beyond the call of duty. Axel Melhardt and Tilly have somehow managed to keep the stage occupied with an endless stream of musicians. The musical fare has covered virtually the entire Jazz spectrum. There has been Blues and Dixieland, but the mainstays have been Mainstream and Modern Jazz. Jazzland has won quite a reputation for presenting rising stars, as a sort of off-Broadway of the Jazz world. Those stars include Benny Green, Brad Mehldau, Diana Krall, Jane Monheit, Kevin Mahogany, Kurt Elling (the list is impossibly long) and they were all here before they got too expensive - read: their managers upped the stakes.
Axel Melhardt has been loaded with medals for service to the cultural life of the City Of Vienna. He slogs on with bitter determination against all odds, wishing the medals could have been transformed into a little financial support. Nevertheless, Jazz lives on in the city, to a large extent due to Jazzland. Art Farmer, once a resident of Vienna and regular performer at the club, has passed. But the groove continues. There is a fantastic turnover of performers to be logged in any one month, many of them visiting Americans.
The party swung mightily with a number of musicians contributing to give the boss and his wife a really fine feeling of appreciation for offering Jazzland as a venue. The 30 Years Jazzland book was amply available, wherein Axel Melhardt recollects stories of visiting musicians and their sometimes odd relationship to reality. There is nothing really scathing, but Melhardt tells it like it is. The book is gossipy and entertaining about the world of jazz. The party was a success, nobody got drunk - although the boss himself looked a ragged at the end of the evening. Jazzland continues the season with the best of jazz and quite the nicest atmosphere for miles around.
Jazzland is the place to head for when you get to Vienna. The club is located at number 29 on the Franz Josefskai, in Vienna's 1st district (just ask anyone for directions). They open the doors at 8 p.m. in summer, and 7 p.m. throughout the rest of the year. There are regular program changes. Tel: 5332575 (when you are in Vienna - don't be afraid to call, they all speak English).
by Lawrence Brazier
Copyright Jazz Now, April 2002 issue, all rights reserved
http://www.jazznow.com/0402articles/JazzLnd.html
---

JAZZLAND
by Jim Galloway
This month s column is a departure from the familiar concert listings of previous issues, reason being that the above-mentioned departure was mine - for a month long trip to Europe! As a result, this article is coming to you from the waltz capital of the world, Vienna.
First of all, for the record, the Danube is not blue, but an industrial brown which would not inspire Johann were he to see it today. Also, the Viennese waltz does not make up 3/4 of the music heard in Vienna, even although it is 3/4, and since being here I have not heard a single zither play the theme from "The Third Man".
Is there jazz in this stronghold of Strauss? - this fatherland of Freud? - this Mecca of Mozart? - this city where you can have your Vienna Phil? Yes there is, and quite a lot of it at that, although, as anywhere else, it is music for a small minority - and a minority that is broken into at least two camps.
They are the obvious ones, traditional and modern, and it would seem that never - or very seldom - the twain shall meet. ( No, not you, Mark!). The stronghold for the traditional/swing/bebop audience - and I include bebop, because in the overall picture of what is called jazz today, bebop is pretty traditional sounding - is a club called Jazzland, located in the heart of the old city underneath what was the wall of the old city. It is, of course, a cellar club, full of atmosphere, with the original walls and vaulted ceilings still in place. The walls are lined with photos of jazz artists who have played the club and it is quite a who's who ranging from pioneers like Teddy Wilson and Wild Bill Davison to the recently deceased Art Farmer. Artists appearing in November, for example, included Red Holloway, Trevor Richards, Conte Candoli, Melissa Walker and Hal Singer, along with some of the leading local players. It is the oldest club in Vienna, currently in its 27th year as a jazz haunt and something like its 500th year as a cellar. It was an escape route in times of siege, but serves now as an escape for jazz fans who like to know where one in the bar is and prefer their music to swing.
Jazzland is run by a remarkable couple, Axel and Tillie Melhardt, assisted by a really friendly staff including Martin and Thomas, a pair of great bartenders. Axel and Tillie's love of the music is genuine and the long succession of visiting artists thinks the world of them. If you can find better anywhere, I'll buy an oversized Tam O'Shanter and eat it. ( It's a hat, Mabel). Incidentally, Axel Melhardt comes by his love of music honestly. His mother was an opera singer and his great grand- uncle was Antonin Dvorak!
There are several other clubs where mostly local musicians are featured. They don't have jazz six nights a week,so you have to check, but you can make some nice discoveries in venues such as "Papa's Tapas", "Blues Man", "Miles Smiles", "Tunel" and "Vienna Unplugged". Worth noting is "Reigen live", a club which featured one-nighters last month by Archie Shepp, Les McCann, Jimmy Scott and Cubanismo. There is also a club called "Porgy And Bess" operating once a week just now. It presents the more avant-garde end of the spectrum so don't expect too much Gershwin, despite the name.
There are plans to build a new "Porgy and Bess" club, heavily funded by the city, as the planned new "Birdland" club, being built for Joe Zawinul, will be. I heard a good singer called Barbara Pfluger who appeared last month in a spot called Celeste. The local talent pool is good. Some of the groups I am familiar with cover a wide range of styles. If you like it New Orleans style, there are "The Red Hot Pods", who have played the Toronto festival a couple of times. A little more towards the Chicago style, in spite of their name, you have the "Original Storyville Jazz Band" and advancing chronologically in terms of style, there are groups like the "Stanton Big Band","Together", "Koolinger" and "The Vienna Art Orchestra". I can't list everybody and apologise if I leave out names that deserve to be included, but two of the most impressive individual musicians I heard were drummer Walter Grossrubatscher and pianist/ clarinetist Herbert Swoboda who can easily hold their own in any company.
Jazz in Vienna is not confined to clubs, although it is interesting, in view of some earlier comments in this column, to note that performances in clubs are frequently referred to as "concerts". The "real" concert hall scene is also quite active. Over the current four week period the line up is Dave Brubeck Quartet, Manhattan Transfer, The Ron Carter Quintet,and Joe Zawinul in a "Hommage to Johann Strauss", if you can believe that one!
So, is there a jazz scene here? You can bet your Vienna Woods there is.
© Jim Galloway - December 1999 - January 2000
---

JAZZLAND - VIENNA
by Lawrence Brazier
Vienna's premier jazz club, Jazzland, was founded in 1972. The club is still running under the same management and along with Ronnie Scott's in London, the Café Montmatre in Copenhagen, the Domizil in Frankfurt and the Blue Note in Paris has been one of the mainstays of European jazz. Vienna has been enjoying something of an explosion in venues in last couple of years - and Jazzland's boss, Axel Melhardt, can be given a great deal of credit for the part he has played in it. But explosions can fizzle, and when the trend brightens under another star, or the public simply returns to waltzing, Melhardt will be stoically supplying the needs of the true jazz fan. Melhardt was honoured be the former mayor of Vienna, Dr. Helmut Zilk, who awarded him the City of Vienna Decoration of Merit in Gold, which was promptly topped by Austria's President, Dr Thomas Klestil, who nicely rounded things off by awarding Melhardt the Decoration of Merit in Gold of the Republic of Austria.
Axel Melhardt may well be loaded with gold (you can't spend medals), but he still has the usual problems of owning a jazz club, and remaining viable - which has been likened to running the equivalent of a bat cave in Transylvania.
So Axel (and his wife Tilly) have soldiered on. This writer has heard tales of conflict between club owners and players. The material and the spiritual separated by, as one musician put it " . . . the need to feed," which translates as " . . . the hay to play." Jazz people can be touchy, it is probably the lives they live. Club owners need to love what they do (at least on this side of the Atlantic) because jazz, as a minority interest, is unlikely to pull in the vast crowds needed for everyone to make money and lead the good life. Jazz fans generally have a fair amount of discernment in their tastes and the jazz venues are obliged to offer a substantial program. Musicians sometimes see club owners only as employers, and not really as suppliers of venues . . . a subtle difference when many really terrific musicians may still be running their lives without the benefit of an agent.
The musicians and singers at Jazzland performing over the last twenty-five years have brought more than a touch of class to a city famous for its refinement. But suffice to say that during his time with us Art Farmer, who had long resided in Vienna, made very regular appearances at the club. And down the years there have been evenings of great joy with the likes of Clark Terry, Ray Brown, Herb Ellis, Lee Konitz, Teddy Wilson, Bob Brookmeyer, Harry Edison, Benny Carter and, well, the list is actually endless. Axel has related of an endless day showing Ben Webster the considerable sights of Vienna in an attempt to keep him sober before the gig.
Of interest has been the "Rising Stars" gigs, when several great players and singers have performed at Jazzland in the early days of their careers - such as Diana Krall, Kevin Mahogany, Claire Martin, Benny Green, Craig Handy and Melissa Walker.
One night at Jazzland, your correspondent heard one of the most logically-fluent tenor-saxophone solos - laid down by Harry Sokal, with Art Farmer before his demise, now with the Vienna Art Orchestra, and here was the kind of hard swinging club jazz that had us all on our feet and cheering.Give Jazzland a try. It will be a night out to remember. The club is located in Vienna's 1st District at 29 Franz Josefskai. Telephone after 11 a.m. on 01/5230399 and after 6 p.m. on 01/5332575.
© Lawrence Brazier - Hallstatt, 2000
---

ART FARMER - THE OLD LION
Without being a spectacular technician Art Farmer has secured a comfortable spot for himself in jazz history. And for the past 30 years he has called Vienna home.
by Sven Gächter, Photos: Carlos de Mello on "Rarities Page 5"
(german >>)
Art Farmer talks the way he plays: no sense of indirection, no flourishes. He takes his time finding the right tone, and sometimes you have to listen pretty closely not to miss it and to give it all the respect it deserves. It's simply perfect, like the handsewn buttons on an expensive tailor-made suit. Whether the subject is Farmer himself or his music: it's no big deal to him. He puts his faith in being casual, counting on his listeners not to confuse that with triviality. Farmer's no phony; he's a living argument for calmness and composure. And like few other musicians of the past or present, he has managed to express these qualities to perfection on his instrument of choice, the flugelhorn.
In retrospect it seems an irony of jazz history that the musician Farmer admired the most in the days when he was just getting started - playing in the clubs of Los Angeles and later New York - was the bepop pioneer Dizzy Gillespie. Jazz encyclopedias praise Farmer today as a master of lyrical understatement, relaxed phrasing and velvet timbre; there is no trace of the eruptive, extreme-register screeching acrobatics of Gillespie or Freddie Hubbard. "It took me a long time to find my tone," says Farmer. And when he had finally found it, he refined it at the side of such jazz legends as Lionel Hampton, Horace Silver, Gerry Mulligan and George Russel. In 1959 he and tenor saxophonist Benny Golson founded the now-legendary Jazztet, and after it broke up in 1962, a highly praised quartet with guitarist Jim Hall.
In 1968 Farmer arrived in Vienna for the first time, at the invitation of Friedrich Gulda. The pianist was looking for illustrious for a jazz competition, and he immediately put Farmer in touch with the Austrian Radio Orchestra. Farmer hadn't planned to stay in Vienna for more than three weeks, but it turned into 30 years. "People here seemed to be so civilized," says Farmer. In contrast to the other great "jazz exile," Dexter Gordon, who lived in Europe from 1962 to 1976, with Farmer it was not a case of fleeing from the (drug-related) perils of the jazz business but rather from an extremely tense socio-political situation in America. "It was a time of great unrest," he says. the civil-rights movement had reached the tragic moment of Martin Luther King's assassination. Farmer was not an apolitical person, but he was "first and foremost an artist." He decided to stay in Vienna, "because I would concentrate on may music a lot better here than at home. It was simply more peaceful." And it was also the place where Farmer would meet his future wife.
Art Farmer is not a Titan in his profession. In the Olympus of the Jazz Gods he resides several levels below such giants as Louis Armstrong, Dizzy Gillespie, Chet Baker and Miles Davis. Farmer's special status in jazz history can be explained by the fact that he was always there - from the days when modern jazz first began - and that he never overestimated either his personal stature or his importance. "some musicians are blessed with a God-given genius," he says with no trace of envy. "Others, including myself, take a long time to find their own voice."
Farmer believes that if anything has changed in the more than 50-years span of his career it is this: that young musicians are no longer given enough time. Following along in the wake of Wynton Marsalis, for example, is a whole school of smaller fish, ambitious an talented with degrees from the finest conservatories. They have studied the jazz idiom down to the last detail and have acquired technical skills that seem almost boundless, but unfortunately they often lack the slightest trace of individuality. The Armani-clad "Young Lions", as they are known in the business, can play every solo by Charlie Parker, John Coltrane and Miles Davis in their sleep, but for all their brilliance as reproducing artists they have found no voice of their own. Thus the jazz of the 1990s has been heading down a blind alley: super-technicians everywhere, and every one of them sounds alike, like some great - and usually long-dead - jazz idol.
"My great advantage," says the veteran, "is that I've been around for a long time and I don't have to prove myself anymore." Farmer is unbothered and can afford to be. He has managed to sound just like himself, and he is unconcerned by the fact that many of the Young Lions can play rings around him technically. In jazz it's the individual sound that counts, and both Thelonious Monk and Miles Davis taught as that it doesn't necessarily take acrobatics to achieve it.
In his early years Farmer had to accept jobs as a hospital attendant and janitor to keep his head above water. Nevertheless, he wouldn't want to change places with the incomparably more comfortable situation of the Young Lions. "My teachers were some of the greatest jazz musicians and they were happy to give younger players a hand. There was no question I could have asked that they wouldn't have answered. You just had to know how to ask the right questions." When you hear shooting stars such as Roy Hargrove or Wallace Roney, you wonder whether they've ever asked anyone, including themselves, the right question.
Farmer, who is celebrating his 70th birthday in August, feels fortunate to have made a decent living from music for more than forty years, without giving in to the temptations of the pop-music industry. He readily admits that the industry's arguments can be convincing. "Five percent of my work, perhaps, consisted of jobs that I did just for the money." But the small number of projects that were directed specifically market demand turned out to be flops, an he now has no reservations about leaving the commercial jobs to someone else. "I don't need the adoration of the masses," he says. His favorite performances are gigs in small clubs such as Vienna's Jazzland, "even if only 50 people are there."
But that doesn't happen very often. Farmer has a big and faithful following worldwide, and today he's touring more than ever, in Europe, Japan and the US. "The older I get, the more work there is." He accepts the stress and strain with a smile: "It's a lot better than just sitting around. And there are few places in the world," he says, smiling and taking a sip of his spritzer, "that are better for sitting around than Vienna."
© Sven Gächter | UP - Bordmagazin Lauda-air Summer 1998
---

JAZZLAND - VIENNA
by Lawrence Brazier
It is Tuesday. Nothing is supposed to happen on a Tuesday. But I'm in Vienna and it is a fine sunny day. I go to a bookstore and pick up a couple of books that I always wanted to read. One of the books is J. R. Ackerley's 'Hindoo Holiday'. There is an appraisal by Evelyn Waugh which reads: "Radiantly delightful . . . a book difficult to praise . . . temperately." And a jazz club difficult to praise. . . temperately. That's it, the perfect day, the perfect club, and Mr Waugh writing copy for me. Your writer is privileged. I am allowed the double pleasure of loving fine writing and the joy of jazz. I believe that Duke Ellington, the perfect gentleman, should have been President of the Entire World. It is with enthusiasm, bordering on the euphoric, that I can recommend Jazzland, Vienna; the nicest, friendliest jazz club that this reviewer has experienced in a very long time. The fine summer day is now evening and the first thing I see is the ancient Chapel of St. Ruprecht, set behind and somewhat above the entrance to Jazzland. This ivy-covered wonder is the oldest chapel in Vienna. A pavement cafe is attendant. The evening sky is still blue, with high thin clouds like smeared milk. There are a couple of kiddy-clouds, each like a baby's balled fist and floating much lower as if suspended on string. My eyes rest lazily on those ivy walls and cafe tables; Ackerley is insistent in my jacket pocket. I nearly did not make it into the club. But God wants me to have everything this Tuesday, and my feet are turned. I am early. Three musicians are talking. A barman wipes glasses. Jazzland is in a cellar - perhaps where St. Ruprecht once stashed his wine -accommodated under arched ceilings. Dozens of photographs of the famous hang on the walls. No colour pics, as I remember. Jazz is a black and white affair. I am not a musician and I ache at my lack. I want to sit with the band, share their jokes and talk music. But I am too shy and I remain at the bar watching and wanting, with a gap labelled talent separating us. A lady walks into the room and the musicians go into a hammy rendering of "Maaaaargie, you are my inspiration." The lady doesn't bat an eye. A man enters and you feel a glow that tells you the man is in touch with his life's purpose. It is a palpable presence. The man is Art Farmer. He just flew in from playing the club "Sweet Basil" in Manhattan. Mr. Farmer greets the other musicians and they seem glad to see him. He is good news among musicians all over the world. He plays his flumpet (really, it's a combination of trumpet and flugelhorn) and is so good that lesser souls weep. Interviewing Mr. Farmer is a little silly because there is nothing you can ask the very talented. "How do you like playing Vienna?" Surprise, he helps me and starts saying nice things about the audiences. I'm mildly desperate and start talking about Rogers and Hart and the way their songs seem to be cropping up a lot lately. I suggest that R & H are enjoying something of a come-back. "They never went away," Mr. Farmer said. A saxophonist joins us and there is talk of an Ellington number . . . TGTBN. I'm too stupid not to ask and I am informed that Ellington used initials because he said the piece was Too Good To Be Named. I say thank you and remove myself. The barman is learning to juggle. The club manager remonstrates, fearing for the glasses. The manager's father stands drinking non-alcoholic beer. He is an old pro musician. He knows everyone, and we become friends. He is my guide for the night. People are drifting in. There is the obligatory Swedish couple, he greying and she still an attractive blonde with the usual enchanting wisps straggling from her bunned hair, both still crazy about jazz after a lifetime together. A few young people. Lots of musicians. There is a ponytail or two. I am the only man wearing a tie. Suddenly it's all family. The friendly atmosphere expands to gather in anyone on the fringe. The musicians mix with the customers. People shake hands like mad with anyone within reach. I like it here. Jazzland is having its 21st birthday. Vienna has been blessed for all those years. Some of the big-name musicians who have played there would make a fan's head spin. But jazz itself has come of age. Nobody calls anyone 'man' anymore. Nobody is overtly hip. Niceness hangs in the air, as if being cool and wrenching solos from within one's soul has ceased to exist. It's, um, cool. The Art Farmer Quintet plays three sets between nine p.m. and one o'clock in the morning. They play all the Standards interspersed with the pure jazz numbers. The perennial 'Round Midnight gets a shake out, then What Am I Here For? Mr. Farmer also lovingly plays in reminiscence of his Curtis Fuller and Benny Golson years - a jazz repertoire which will be with us for ever. The gorgeous Jerome Kern and Johnny Mercer number I'm Old Fashioned - the vocal version of which had me falling in love with Ella Fitzgerald around thirty years ago - receives one of the finest muted treatments I have ever heard. I'm in heaven. The music is fantastic. The pianist, Fritz Pauer, plays big chunky, gong-like chords that bring a lump to your throat. Zing goes the strings of Paulo Cardoso's bass. Mario Gonzi on drums is galloping like crazy and then there is that saxophonist, Harry Sokol. Sokol wears demonstrative spectacles with a polka-dot design on the frames. He roars, riffs and blows every up-tempo number inside out, while the rest of the band hangs on for dear life. I have a big, dopey grin on my face. I bounce and sway, I applaud and yell. I'm so happy, and so totally captivated, that the woman, one's wife, with a smile full of promise and a nudge and a wink, would have to drag me away feet first. Should you, dear reader, be flying towards Vienna on some future date, and should you be landing in the evening, grab the first taxi you see and head for Jazzland. Should you be in the air and merely flying over Austria, ask the stewardess about parachutes, and keep St. Ruprecht in mind. Jazzland is situated at number 29 on the Franz Josefskai, in Vienna's 1st district. They open the doors at 8 p.m. in summer, and 7 p.m. throughout the rest of the year. There are regular programme changes. Go. It is worth it.
© Lawrence Brazier - Hallstatt, July 1994
---